Free Wi-Fi service for
overseas tourists
HANKYU HANSHIN WELCOM Wi-Fi
From the list of Wi-Fi networks on your mobile terminal, select "HANKYU-HANSHIN WELCOME Wi-Fi." If you tap your browser icon, the entry screen will appear.Then just finish the simple registration process by following the instructions on screen!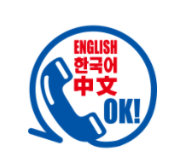 Telephone Interpreting Service
Telephone interpreting service is available in English, Chinese, Korean, Thai, Russian, Portuguese, and Spanish. For Thai, Russian, Portuguese, and Spanish, the service is only available from 9 a.m. to 6 p.m. on weekdays. Please do not hesitate to contact our staff if you have any troubles while shopping or dining out. Staff will ring to the interpreting service center and an interpreter will help you.